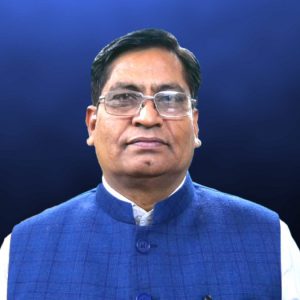 Ashok Bharti was born in an extremely poor Dalit family in Delhi on 26th May 1960. Father was a tailor and mother used to make paper bags to supplement the family income. There were nine members in the family, three sisters and four brothers. The whole family remains committed to the cause of the Dalit Community. 
B.E. (Manufacturing Management), 1999, University of South Australia, Adelaide, Australia with specialization in various Advanced Technologies, including Robotics, Artificial Intelligence, Computer-Aided Manufacturing, Strategic Management, and Manufacturing Strategies.
B.E. Electrical Engineering, 1986, Delhi College of Engineering, Delhi University.
B.A. (Honours) 1st Year in Political Science as a regular student of Hindu College of Delhi University in 1981.
Senior Secondary School Examination from Government School, Gandhi Nagar, East Delhi.
Secondary School examination (10th class) from Government Senior Secondary School, Kalkaji in South Delhi.
A first-generation learner completed his primary and pre-secondary education in a Municipal Corporation Primary school in Seelampur village of East Delhi.
Mr. Bharti is an extraordinary leader and community organizer, who has consciously led nationwide moments supporting social justice and upliftment of Dalits, Adivasis, and the under privilege. Below a few examples of his impactful work.
Led the Movement for the successful restoration of the SC/ST Act 1989 on 2nd April and 9th August 2018. The SC/ST Act was diluted in a Judgment by the Supreme Court.
Leading Samyak Budget Abhiyan, nationwide mobilization of Dalits and Adivasis for population proportionate Budget
Founder and Chairman, All India Ambedkar Mahasabha, apex movement body created post-Bharat Bandh for the constructive coordination of Dalits/Adivasi groups across the country.
Founder and Convenor, Global Task Force on Social Exclusion set up under the Global Call to Action Against Poverty
Founder, National Confederation of Dalit and Adivasi Organisations (NACDAOR)
Lifetime Achievement Award at the National Dalit Leadership Summit held at Panchkula on 2nd September 2018.
CARE Millennium Award 2011 for outstanding work on MDGs, CARE Deutschland-Luxemburg, and Germany.
Engineers India Limited Fellowship for SC and ST students, 1982
National Overseas Fellowship for Higher Education of Government of India, 1994, which provided him an opportunity to undertake Master of Engineering (Manufacturing Management) at the University of South Australia.
Dalit Ratna Award on 28th April 2002 by the Dalits of Haryana for his efforts for the empowerment of the Dalits
Ashoka Fellow (Ashoka Foundation, USA), 2005