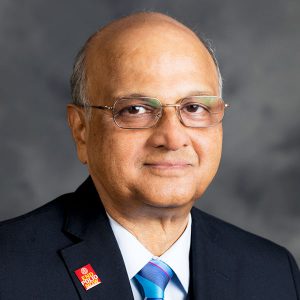 He is an Alumnus of St. Xaviers College, Mumbai, and IIM Calcutta.
On graduation in 1970, he was invited to join TAS. Unfortunately, due to his Father's failing health, Gulam opted to leave T.A.S. in 1974 and take over the reins of the Family Business. TAS gave him a lien for 1 year. However, his father passed away within 6 months and TAS extended his lien by another year. Given his business commitments, he did not rejoin TATA's.
In 1978 he was selected as a Member of Rotary's Group Study Exchange (GSE) Team to Rotary Clubs in Indiana, U.S.A. This program brought Gulam in close contact with Rotary. He became a Rotarian in December 1979 and in 2002-03 he was unanimously elected as District Governor of the Rotary District in Mumbai.
In acknowledgment of his leadership and commitment, successive Rotary International World Presidents have appointed him to various important international assignments.
He is currently serving a four-year term as Trustee of The Rotary Foundation (TRF)  up to 2022.  The Rotary Foundation of Rotary International consists of 15 Trustees from different regions of the Rotary world and he is currently the only Indian on the Board.
His Motto of Service encompasses other Initiatives. He is a Trustee of the Mohalla Committee Movement Trust and Public Concern for Governance Trust, which works for probity in public life, promoting the use of RTI and promoting Communal Harmony. He is also a Member of the Governing Board of Mumbai First, a high-powered group of Citizens committed to improving the quality of life in Mumbai.
A proficient rider from childhood, Horses have always been a passion. He was a member of the Managing Committee and Chairman of Stewards of the Royal Western India Turf Club Ltd (RWITC). He resigned from both on his appointment as TRF Trustee. However, he is currently a Member of the Board of Appeal of RWITC.
Haseena, Gulam's wife of 44 years, passed away on New Year's Day in 2015.
Gulam, his son, Zameer, a partner in the Family Business, Daughter-in-law Khatija, and Granddaughter Sumehra live together in Mumbai. His daughter Zahabia, Son-In-Law Satpal Branch, and their sons Rishaan and Jaiyaan live in the USA.