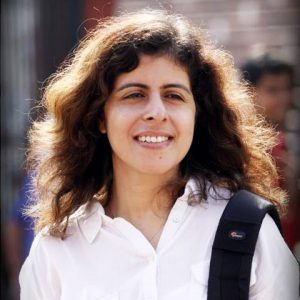 Namrata Wakhloo was born and raised in Srinagar, Kashmir, in a Pandit family. I grew up in a huge joint family consisting of grandparents, parents, uncles-aunts, and a bunch of cousins, in a very typical Kashmiri household. Life was all about celebrating the small joys of life with a very sheltered upbringing.
For my schooling, I went to Presentation Convent in Srinagar. Being diligent at studies and getting good grades were the only priority, as is the case with most Kashmiri families. Thereafter, I pursued a bachelor's degree in Engineering and a master's in Management, from Pune. These were the years of the 90s when the insurgency in Kashmir was at its peak and life was not easy. The road ahead was barely visible and full of ambiguity. This was when I landed my first job was with a computer networking firm in Fort, Mumbai. Thereafter, there was no looking back.
In my close to 25 yrs long career in Customer Services and Human Resources, I have worked majorly in the Telecom sector with organizations like Reliance Infocomm, Bharti Airtel, and Aircel. Currently, I head Corporate Social Responsibility for a Fashion Retail MNC in Gurgaon, India.
I am married to a Pandit family. My husband, who is an engineer too, works in the paper industry. We have two children and live in Delhi.
The last two decades have mainly been about juggling home and work. Raising kids while striving to get good appraisals at work has its own challenges and I am proud of myself today when I look back. I seem to have come a long way.
In my free time, I love to read, which mostly includes history, autobiographies, and other non-fiction. Studying the history and culture of different countries is my passion, which takes me to beautiful places. Solo travel is the most enriching and de-stressing experience for me which could include walking through the cobbled streets of Europe or going on treks in the Himalayas of Kashmir which gives me a lot of peace and challenges my spirits. My other interest lies in amateur photography. I have a huge collection of people, places, and moments captured during my travels.
It has been a long journey from where I came from and I am grateful to God for showing me the way. Now is the time I would like to show my gratitude and try to give back to society, from whom I got everything that I have today. Luckily, my job enables me to pursue this on a daily basis. I would like to do more, especially, for people like me, who come from small places and are looking at finding a foothold in this big world.